Just like the rest of the world, Irish people love to transform their humble dinner tables into festive banquets during Christmas day. They'd rather shed sweat and cook the biggest meal of the year at home than to dine at a fancy restaurant in Cork city. And while each Irish household has its unique signature dishes their family, friends, and relatives anticipate, there are a couple of Irish Christmas staples that, traditionally, always make an appearance on every table. 
Here are unique festive Christmas treats you can find all over Ireland during the holiday season. 
1. Roast goose or turkey and stuffing
A Christmas dinner isn't complete without a kind of roast meat, taking the centerstage. In Ireland, it's roast turkey, which was adopted from the 16th-century English tradition. If turkey's not available, Irish folks go for roast goose. In fact, it's more common on Irish Christmas tables before the turkey even arrived. 
The roast poultry is generally served with stuffing, roast potatoes, Brussel sprouts, sweet carrots, crispy parsnips, and vegetables. As for the sauce, we've got cranberry sauce, bread sauce, and gravy. 
2. Boiled ham
What's a Christmas celebration without ham? Ham is also a major part of the Christmas dinner menu regardless of where you grew up in. In Ireland, ham is usually boiled the night before and then served glazed and studded with cloves. 
3. Spiced beef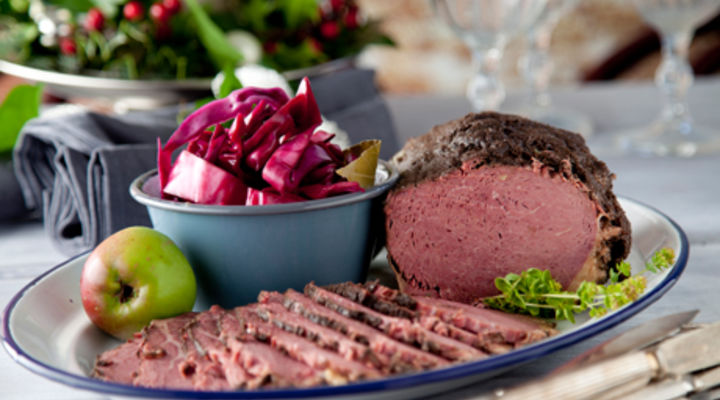 Spiced beef is served on Christmas in some regions, especially in the southern counties of Limerick and Cork. The traditional recipe includes a joint of silverside or rump beef that's been cured and salted. The beef is cured in spices including pimento, cinnamon, saltpetre, ground cloves, and ginger. It is then either boiled or broiled in water or dark stout. It can then be roasted. 
4. Mince pies
While they originated in England, mince pies are a uniquely Irish Christmas treat. They've become a staple in Christmas dining. Mince pies are desserts, made with a combination of fruit, nuts, and spices, filling a buttery pastry shell. They're offered to festive visitors and guests with a cup of tea. They're sometimes left out for Santa Claus. 
Traditionally, mince pies are served after the family gets home from the midnight mass. Irish Christmas is heavily tied with religious practices. Families would light up a candle placed on the sill of the largest window and then go to a midnight mass on Christmas Eve.
5. Christmas pudding/ Plum pudding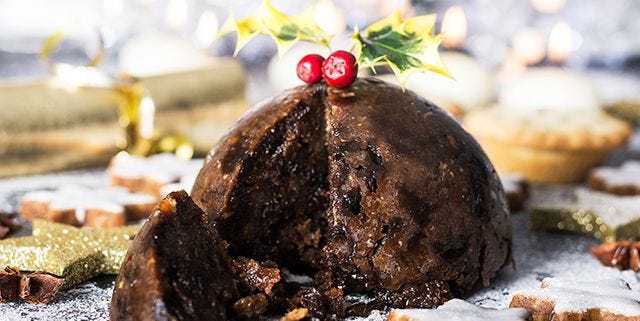 Love it or hate it, Christmas pudding is always here to stay. Christmas pudding is another dish that's made its way to the Emerald Isle from medieval England. It's made with dried fruit, egg, and suet soaked with brandy or some other alcohol. It's blended with spices like nutmeg, cloves, ginger, and cinnamon. 
Christmas pudding is known as plum pudding in some places, though it doesn't contain any plum. They are prepared months prior and left to age. While not everyone loves its taste, everyone stays for the dramatic tradition of setting it alight with warm brandy on Christmas day. 
6. Irish Christmas cake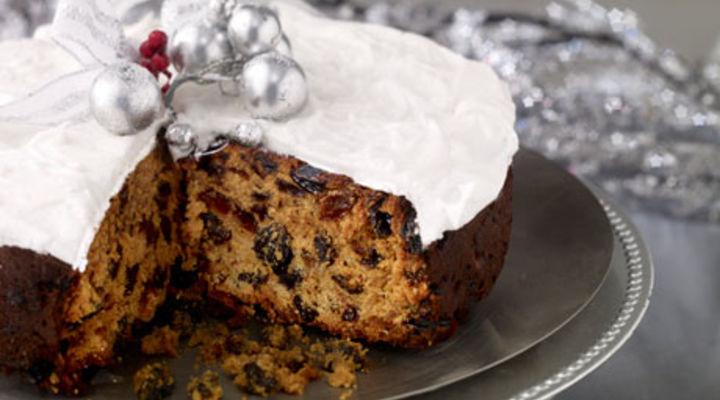 I think we can all agree — a Christmas dinner table looks gloomy without a bright and sweet cake. It's a good thing that we have a traditional Irish Christmas cake. It's one of those baked goods for which every family has their own special recipe handed down from their great great great grandparents. Irish Christmas cakes are moist fruit cakes, laced with spices and soaked in brandy. They can be iced with marzipan and icing or left bare. The key ingredient is the candied fruit, which is usually French glacé cherries. 
Irish Christmas cakes are usually baked weeks before Christmas. In some households, it's a tradition for kids to make a wish while helping to stir the mixture. 
7. Irish Christmas sweets
Who cares about gaining a few more pounds? It's Christmas! And kids and adults alike will always make sure to leave a room for dessert. 
Irish trifle –

Irish trifle is a delicious dessert made of jelly, cream, and chocolate sprinkles. 

Cadbury's roses –

Cadbury's roses have been a Christmas staple in the UK, the Isle of Man and Ireland since 1938. The tin contains an assortment of individually twist-wrapped chocolates of ten different kinds. 

USA Biscuit tins –

a long-time staple that includes assorted biscuits and cookies. 
8. Irish booze
With a plethora of bars, pubs, breweries, and distilleries in Ireland, we cannot deny that Irish people love drinking. And what better way than to drink on Christmas day? 
Mulled wine – known as spiced wine, this beverage is usually made with red wine and other mulling spices, and sometimes raisins. It's alcoholic and traditionally served hot and warm — a perfect drink during the winter. 
Pint of Guinness – If you're celebrating Christmas in Ireland, why not have a pint of the dark stuff the country is known for? 
Whiskey eggnog – Another perfect treat while relaxing in front of a fireplace is whiskey eggnog, especially when made with Jameson. 
Tricolor (Irish flag shooter) – this three-layered shooter resembles the flag of Ireland — green (crème de menthe), white (Irish cream), and orange (Grand Marnier)
Eat, drink, and be merry this holiday season!
Author Bio: Carmina Natividad is a self-proclaimed foodie who enjoys discovering hidden gems and writing engaging articles about food, travel, and lifestyle. And yes, she loves cocktails and happy hours too! To know more about yummy food and drinks, you may visit Greenes Restaurant Cork.